There appears to be no cart for the game (the multicarts aren't useful either) so here's the game's title screen.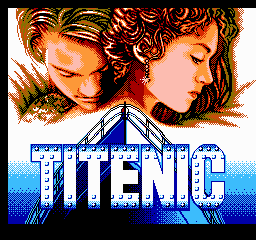 AKA: Titanic, Hacker/Heroine, (Super New Year Cart 15-in-1 release names) Harry's Legend/Harry Potter/Hally Poter: Goblet of Fire/Harry Potter and the Philosopher's Stone, (Hacked version) The Waterboy (Cutscene hack)
Year: Unknown
Developer: Hummer Team
Publisher: Unknown, ABAB (Re-release)
Platforms: NES exclusive
Known Conversions
Edit
Unconverted
Edit
N/A
Misc Edits
Edit
N/A
N/A
Ad blocker interference detected!
Wikia is a free-to-use site that makes money from advertising. We have a modified experience for viewers using ad blockers

Wikia is not accessible if you've made further modifications. Remove the custom ad blocker rule(s) and the page will load as expected.