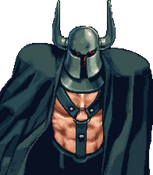 AKA: None
Author: Werewood
Site: http://page.freett.com/werewood/mugen.html
Status: Online
Comments: Mike Obrecht also made his own version which can be found at http://randomselect.piiym.net/
Added to database by : Blue Monkey / MelvanaInChains
Story:
To this day, little is known about Death Adder. He was believed dead after the battle with Gillius Thunderhead, yet rose to stalk the land. Since them, he has "died" twice more, yet somehow managed to come back from the other side. It is widely believed now that this giant is not a man, but a very evil spirit.
Rumours that he will fight for the axe have caused panic throughout the lands. Should Death Adder gain the Golden Axe, the continent will face an age of horror and despair.
Ad blocker interference detected!
Wikia is a free-to-use site that makes money from advertising. We have a modified experience for viewers using ad blockers

Wikia is not accessible if you've made further modifications. Remove the custom ad blocker rule(s) and the page will load as expected.